Director Oskaras Koršunovas and actor Juozas Budraitis fostered the idea to stage Samuel Beckett's play "Krapp's Last Tape" for more than two decades. Finally, the play is presented at the OKT Studio.
It is one of the classic works of absurdist literature, questioning the painful theme of a person's change throughout their lifetime. According to the main and only character of the play, Krapp, it is his personal retrospective journey to the past. A man who has lived a long life sits in his room, surrounded by heaps of tapes with recordings of his own voice made a long time ago.
"I had the idea of staging "Krapp's Last Tape" twenty years ago, after I'd staged my first play "There to Be Here" by Daniil Kharms. In the course of those twenty years, meeting with Juozas from time to time, we kept remembering this common idea of ours. Now we feel the time has finally come." – says Koršunovas.
Juozas Budraitis is a film, television and theatre actor who has played close to a hundred roles in various Lithuanian and foreign film and television productions. His name is associated with the most famous Lithuanian films: "Nobody Wanted to Die," "Feelings," "Little Confession," and others.
"Many details in the play coincide with real life. The play consists of an elderly person's recollections, reflections, analysis of his life, and condemnation of the mistakes he has made. All these paradoxes do take place in one's life, even though it seems to them that their life is calm, gentle, and logical. In reality it is full of different errors, surprises, unjustified and inexplicable things. All of this can be found in Beckett's "Krapp's Last Tape," – says J. Budraitis.
Composer Gintaras Sodeika wrote the music. He has accompanied the director from the very beginning of his creative path. The stage design was created by Dainius Liškevičius, who has previously co-worked with Koršunovas on "The Lower Depths" and "Miranda."
Koršunovas agrees that putting on Becket's play is not easy. On the other hand, it is yet another accepted challenge. A difficult but somewhat interesting one, especially when you work with an actor of the calibre of Juozas Budraitis. "Beckett's plays are like stones. Purified existentialism and strong characters do not leave room for interpretation. You either become the symbol or not. There is nothing to act. I would never have staged "Krapp's Last Tape" if not for Budraitis, who may very well become the Beckettian symbol  due to his age, experience and intellect" – says Koršunovas on the iron logic of the play.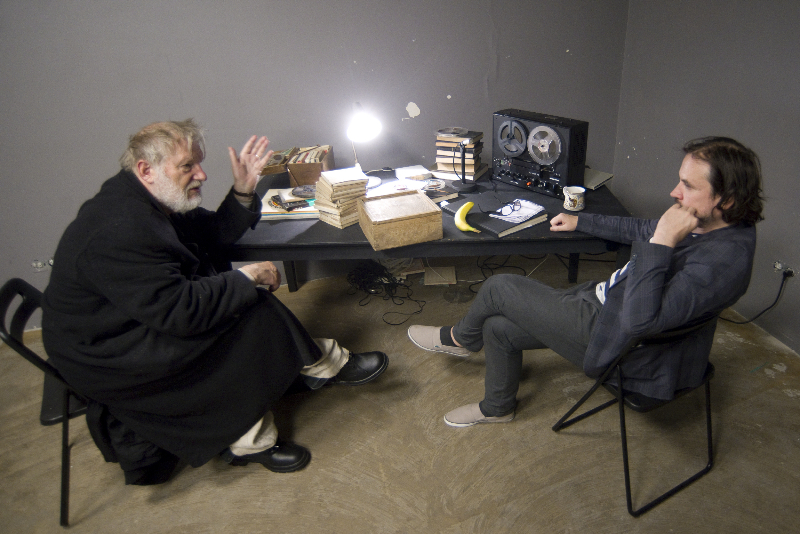 Set designer
Dainius Liškevičius

Composer
Gintaras Sodeika

Cast
Juozas Budraitis

Premiere
2013 May 30

Reviews
Andrius Jevsejevas / Lietuvos rytas
Kristina Steiblytė / 7 meno dienos
Daina Habdankaitė / Literatūra ir menas
Konstantinas Borkovskis / Menų faktūra