"Being in love is like being in Auschwitz", – this assertion of Roland Barthes inspired the most scandalous British playwright Sarah Kane to write perhaps the most open of her dramas, "Cleansed." After the first premiere almost the entire British media asked her why she wrote such violent plays. The playwright was unaffected: "No, I haven't written violent plays, I'm just trying to be completely honest." In his OKT Studio director Oskaras Koršunovas together with his youngest generation of actors and the actor Darius Meškauskas presents a performance based on the play by a writer whose life ended very early and in a very tragic way.
"It's not the first time I turn to Sarah Kane's writing. Her writing has the exact same kind of attraction as disaster and crime. It's scary and at the same time clean. There is no play of accidents or mundanities in it, every word is unavoidable. This way Kane's writing reaches the essence of an ancient drama and requires things that are hardly attainable in contemporary theatre, just like the "Cleansed" require seek the unattainable in love", – director O. Koršunovas said.
After the premiere of her first play in 1995, overnight, S. Kane from nothing became almost everything. Critical reviews flooded the entire press. Even the tabloid newspapers, which could not care less about theater, made space in their first pages for their verdict on S. Kane's play.
In his review of Kane's "Phaedra's Love", theatre critic Charles Spencer wrote in "The Telegraph": "It's not a critic that's required here, it's a psychiatrist." He was no less categorical speaking about "Cleansed": "Kane is incapable of creating depth of character or moving an audience. She'd much rather kick us in the guts." Jack Tinker, of "Daily Mail" called "Blasted" "this disgusting feast of filth." It seems that S. Kane remembered him when she wrote "Cleansed."
Kane was extremely puzzled by this storm in the media. In her opinion, instead of discussing the problem itself in the first pages of their newspapers, the journalists were attacking its reflection in art.
"The thing that shocks me the most is that they seem to have been more upset by the presentation of violence than by violence itself. I mean, a 15-year-old girl has just been raped in a wood but there's more space in the tabloids about my play than about this brutal act. Everything they said was a lie. They didn't say anything that was true, except that I'd written a play", – S. Kane said.
What was the problem for the British? As it has been repeatedly said – violence. Once when S. Kane was asked why her plays were so violent, she answered: "I haven't written violent plays, I'm just trying to be completely honest."
In January 1999, a few months after the success of "Crave," just after she'd finished "4. 48 Psychosis," Sarah Kane swallowed 150 pills of antidepressants and 50 sleeping pills. Two days later, she was left alone in her hospital ward for 90 minutes. She crawled to the bathroom and hanged herself by her shoelaces.
"You know, most good playwrights write seven good plays and then something happens and after that they're crap. I'm not far off my allotted seven", – S. Kane once said. Before her untimely death she wrote five plays and a screen script, so she was one play short of her "allotted seven".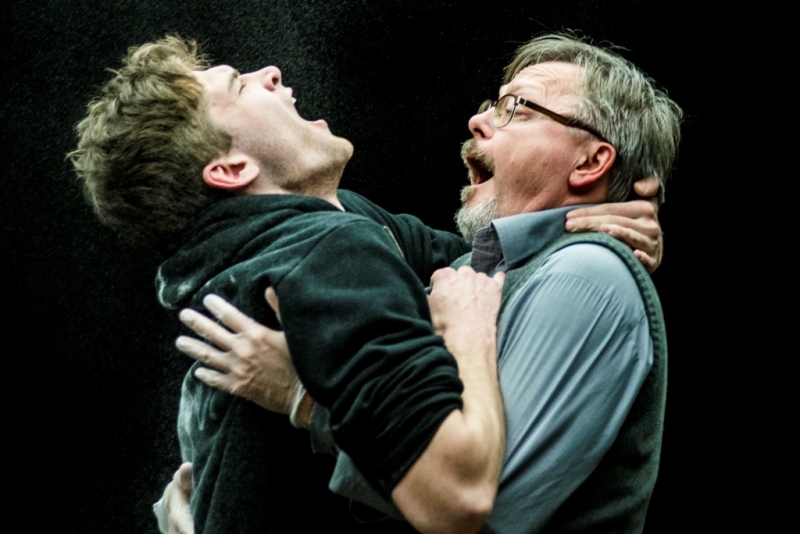 Set designer
Oskaras Koršunovas

Costume designer
Lauryna Liepaitė

Composer
Antanas Jasenka

Choreography
Vesta Grabštaitė

Cast
Grace – Greta Petrovskytė
Graham – Kęstutis Cicėnas
Tinker – Darius Meškauskas, Gediminas Rimeika
Robin – Martynas Ališauskas
Carl – Laurynas Jurgelis
Rod – Karolis Vilkas
Women – Paulina Taujanskaitė, Gailė Butvilaitė
Voices – Oskar Vygonovski, Lukas Malinauskas
Chorus – Ugnė Šiaučiūnaitė, Kamilė Petruškevičiūtė, Taura Kvietinskaitė, Augustė Pociūtė, Jonas Braškys, Inga Šepetkaitė

Premiere
2016 January 25

Reviews
Toma Stasiukaityte / bernardinai.lt
Kristina Tamelyte / bernardinai.lt
Akvile Simeniene / bernardinai.lt